Group Comm Home Page
What is Group Communication?

Small group communication, as a course, is the study of "interaction of three or more interdependent people working toward a common goal" (Engleberg and Wynn, 2003, 4). In these courses, we create interpersonal experiences and challenges in groups of 4-6 people. Each project centers around a different type of problem.
Group Communication differs from Organizational Communication in that it doesn't look at the entire institution or agency. It differs from Interpersonal Communication (IPC) in that it includes at least three people in the dynamics of interaction. So, Group Communication, as taught in this course, includes elements of both Org. Comm. and IPC.

FROM THIS PAGE:

You will find pages devoted to the syllabus, course calendar, course assignments, the final project, photos of various projects, and more.



Projects and Problems Tackled in this Course:
Course Objectives
1.
Participate effectively in a group discussion.
2.
Develop increased skill at effective language use.
3.
Utilize problem solving processes in a group setting.
4.
Provide leadership influence in a group.
5.
Organize and facilitate a group project.
6.
Assess the effectiveness of group effort toward a shared goal.
7.
Evaluate the ethical issues involved in leadership influence.
Assignments and grading
Note: assignment sheets describing each task are available for each of the following activities.
Assignments:
Beachcomber Project, 100 points
Text Chapter Summary Project, 100 points
Egg Launch Project, 100 points
Venus-Mars Project, 100 points
Cons Rep. or Emerg. Tec Project, 100 points
Service-Learning Project, 100 points
Personal Response Reflections, 100 points
Midterm Exam, 100 points
Final Reflection Paper, 200 points
Total: 1000 points
Beachcomber Project
:

group selects a beach in the Monterey area to research; paper and group presentation required.
Text Chapter Summary Project
: group develops a summary of one chapter of the textbook; paper and group presentation required.
Egg Launch Project
: group designs a method of launching a raw standard-sized chicken egg through the air and having it land a minimum of 20 yards away and remain intact.
Venus-Mars Project
: gender-based groups design either a Man's Mall or a Women's Retreat, including a marketing plan.
Consumer Report or Emerging Technologies Report Project
: groups choose one of the two options and report on the results of a consumer field study (consultation type of assessment of three real businesses in the area), or the results of a thorough investigation of an emerging technology, including social, economic, religious, or political issues surrounding the technology as an invested solution to a problem.
Service-Learning Project
: group selects an organization in the Monterey area with which to work, helping them achieve their particular mission; ten hours required of each member in coordination with their teammates; paper and group presentation required.
Personal Reflection Responses
: ten written responses to prompts are required of each student over the duration of the session.
Midterm Exam
: a written midterm exam is assigned at some midpoint in the session; it is an assessment of group dynamics in their group applying concepts from the textbook and course.
Final Reflection Paper
: a written final paper is due which both observes and evaluates the performance of groups the student has participated in during the session.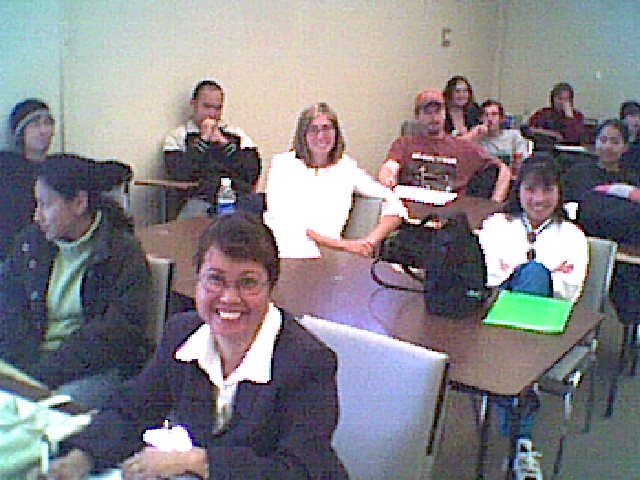 Group Comm., Spring 2003
What a happy class!!
About the professor, Dr. Dan Fox
Dr. Fox has been teaching at MPC since Fall 2002, and he loves it!

He comes by way of CSU Fresno (assistant professor for 3 years), and two community colleges in San Diego prior to that (Southwestern College and Mira Costa College). He has an AA (SWC,'88), BA (SDSU,'92), two teaching credentials (CSU Chico,'94), MS (SIUC,'95), and a Ph.D. (SIUC,'99).

He loves teaching, and prefers using active learning methods for instruction. He holds the conviction that a learner must be engaged, cognitively and affectively, before they truly connect with the material. Once conncected, they are encouraged to apply that learning to life and its problems. Realistic opportunities for that application are afforded via the course projects and reflection papers.


Presenters-In-Action, Spring 2003
Service-Learning Presentation on the Upward Bound Program